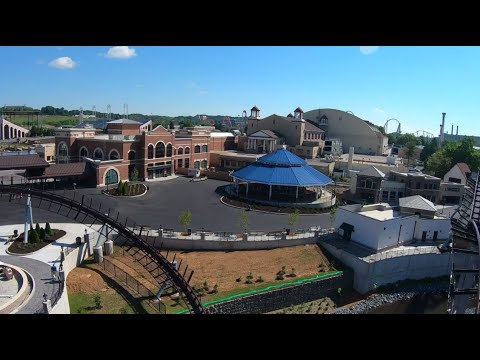 Our 15th coaster
Candymonium coaster is the tallest, fastest, longest, and sweetest coaster in Hersheypark®. From the distinctive Hershey's candy theme to the memorable thrills around every turn, we've masterfully assembled the finest ingredients to create a one-of-a-kind Bolliger & Mabillard hyper coaster.
Tallest
---
Savor a heart-pounding, 210-foot ascent up the tallest hill in Hersheypark®. Then, dip into thrilling drops including 7 camelback hills that serve up the ultimate feeling of freedom with the most airtime in Hersheypark.
Fastest
---
Hold on tight! Candymonium reaches maximum speeds of 76 MPH. Along the way, feel the rush of The World's Sweetest Coaster when our largest coasters, Skyrush® and Candymonium, cross paths and create a thrilling Candyrush moment.
Longest
---
This out-and-back-style coaster features a 4,636-foot milk chocolate track and spans 7 acres in the all-new Hershey's Chocolatetown region. Savor the thrills! A ride on Candymonium lasts 2 minutes and 26 seconds.
Sweetest
---
Guests visiting Candymonium will enjoy a sweet, candy-inspired experience from start to finish! Check out the Hershey's-themed trains, arrival area, coaster building, and more. Plus, the finishing touch is an impressive panoramic banked curve around the iconic Kisses Fountain.
10,279

Bars

Track Length in Hershey's Milk Chocolate Bars

123

Degree Curve

Hammerhead Curve

Panoramic Banked Curve

Around the Iconic Kisses Fountain

3

Candy-Themed Trains

Hershey's Kisses candies, Reese's Peanut Butter Cups & Twizzlers Twists